We offer the following services by appointment: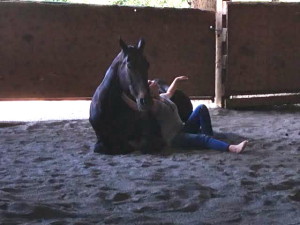 EQUINE ASSISTED PSYCHOTHERAPY- (EAP)  AN ALTERNATIVE TO TRADITIONAL PSYCHOTHERAPY.
EAP (EQUINE ASSISTED PSYCHOTHERAPY) is a form of experiential therapy where the participants learn about themselves and others by participating in activities with the horses. Horses in EAP are used for growth, learning and healing. Through these experential activities, we help our clients improve their self esteem, build confidence, work on their social communication skills, better their relationships and gain better social awareness.
EAP is faciitated by a licensed mental health professional, an ES ( a certified horse specialist), and a team of very intuitive equine partners (horses), in a very private, safe, and non-threatening environment. Participants learn about themselves and their relationships with others by partaking in these activities with the horses. Then, observations, thoughts, feelings and behaviors are discussed. The emphasis is on "learning by doing", rather than just talking about problems.
Horses provide the opportunity to mirror life and make one's issues visible and tangible. Once the client can see this problem/behaviour more objectively, they can make a positive change. After the change is made in the arena, the client can make his/her change in their lives and find a solution that will work for them.
EAP helps the client gain a deeper understanding of themselves and their world. EAP addresses a variety of mental health and human development issues such as: PTSD, trauma, anxiety, eating disorders, addictions and recovery, depression, physical, emotional and sexual abuse as well as autism, ADD/ADHD, grief, attachment/boundary or relationship problems, anger management, and dealing with cancer/catastrophic illness diagnosis..
EQUINE ASSISTED LEARNING (EAL)
This is an ideal learning session for children, adolescents, adults and groups including schools, seeking to  teach kids to develop the tools and strategies needed to make good choices. This is a way to experience the wonderful benefits of our programs for those not requiring psychotherapy. Some of the issues that can be addressed via EAL are: aggression, bullying, lack of respect, authority problems, cliques in schools, cohesiveness, teamwork, prejudice, motivation, and empathy.
EAL moves beyond intellectual awareness and allows clients to experience in a tangible way how their behaviors, attitudes and beliefs impact themselves and others. Through structured group activities with horses, clients can reflect, discuss and journal. Participants have the opportunity to identify patterns, examine their behavior and move toward change.
For  a small businesses or church, EAL can help clients develop life skills, leadership, team building and character development.
For Corporate Training and Development,  through the EAL process clients can experience very unique opportunites with our highly trained staff and horses to develop life skills, leadership, team building and character development. We offer sessions that promote growth, increased creativity, and improve problem solving and teamwork skills. We utilize the power of horses to generate opportunities for significant change in team performance, staff development, cooperation, communication, self confidence and leadership. Offer your group this unique learning experience to address difficult topics. Build a more cohesive, flexible and productive team.
HOW EAP and EAL ARE DIFFERENT FROM OTHER HORSE THERAPY PROGRAMS:
We provide mental health treatment, personal growth, and educational services as opposed to physical therapy or hypnotherapy. No riding is involved, and there are no horse skills necessary to participate. Our activities are 100% on the ground and clients interact with our horses through unique experiential activities.
FARM THERAPY 
A very special and unique program offered through Helping Hands Horse Rescue and Equine therapy is our farm animals assisted  therapy. Included in our menagerie are 2 Llamas: Maggie and Dash, a sheep named Myla, Pygmy goats named Darla, Peppercorn, Miracle, CJ,Poppa, Perlita, Carmelita, Tina, Baby Black, Momma Black, Stormie, Sweety Belle, Grape Stomper, 2 Nubian Goats named Sugar and Hazel and their babies Princess and Truffles.   Also running  loose around the property are various bunnies and the dozen girl bunnies that are in their shelter and they love kids. In the bird sanctuary we have many roosters who all cohabitate with each other (most are rescues), many varieties of ducks, chickens, doves, turkeys and hundreds of birds that live on our property and nest in the oak trees.  Horses we have many, to date 43!! and many of them are rescues.  We have 4 miniature horses called Rollie, Suzie, Buzz and Woody who are paint color and are our latest rescues.  We have alot of older retired horses such as Mistery, Astro, Jimmy, Princessa, Gunny, Jimmy, Tori and Rhapsodie.  Some of our younger horses are Millie, Bambi, Winston and Elle, Rascal, Sierra,  Weebie Jr, Cloudy, and Peekaboo, Mona, Dakota, Dite.  Older horses include  Ruby, Outlaw, Persie, Sparkles, Tango, Princess, Holly and Carmen. The foals are Sunny, Spruce, Monkey, Opie, Oakley, Calvin and Gigi!